Disposable Endoscopic Curved Circular Stapler manufactures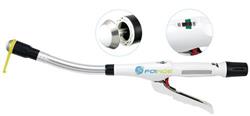 Model: DCS
Brand Name: FN
Function: suture
Payment Terms : T/T,Western Union
détails des produits

Circular Stapler manufactures:
1.Easy to access
2.reduce wound
3.with a tissue thickness indicator
4.reduce operation time
Disposable Endoscopic Curved Circular Stapler manufactures
Circular Stapler:
Used for end-to-end, end-to-side,and side-to-side anastomosis during the reconstruction operation of the esophagus,stomach,intestine and so on
l Easy to access with bended tube
l Use of separated anvil without lip to reduce wound
l Simple and easy manual operation with a tissue thickness indicator
l Special screw structure to reduce operation time significantly
Product Model

Tube Diameter

(mm)

Cutting Diameter

(mm)

Titanium Staple Height

(mm)

Titanium Staple Qty.

DCS-24

Φ24

Φ15

4.5

18

DCS -26

Φ26

Φ17

4.8

20

DCS -29

Φ29

Φ20

4.8

24

DCS -32

Φ32

Φ22

5.0

28
produits relatifs
35W disposable skin staplerdisposable skin stapler:1.Shorten suture time2.Small and Smooth stitched wound3.reduce the workload ...

Disposable PPH Staplerdisposable suture staplers:1.reduce pain,bleeding2.Extralarge cartridge capacity3.tissue thickness i...